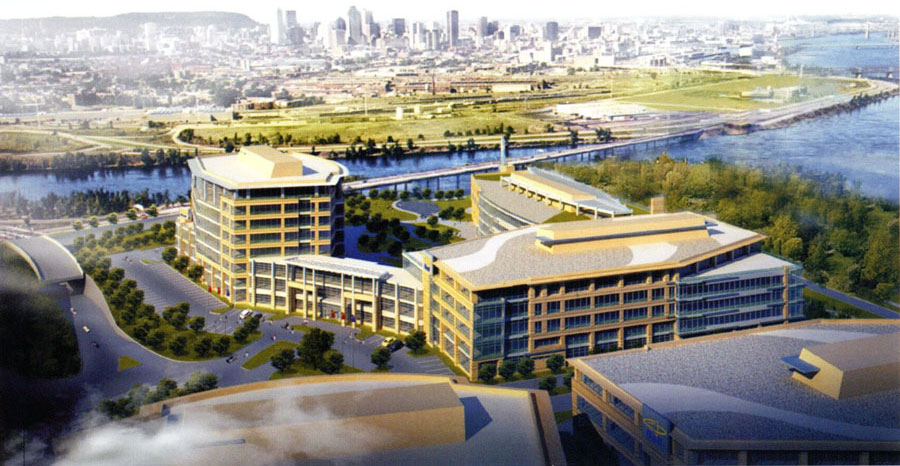 Bell Canada Head Quarters, Montreal, QC
Our Job:
The CGC Group Bulldog Heat Pump System was selected as the HVAC system in order to take advantage of the FreeHeat™ concept, which makes use of "waste energy" in the form of useful energy.
Unlike conventional Water Source Heat Pump Systems, Bulldog Heat Pump System does not operate the compressors in order to extract heat from the water loop. This practice eliminates the electrical heat portion associated with traditional heat pump system, and allows for better conservation and reclamation of the waste heat. Other benefits include longer equipment life, lower maintenance cost, and greater savings.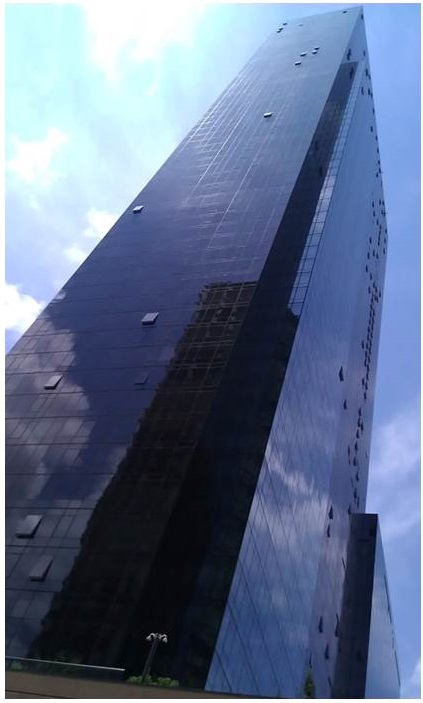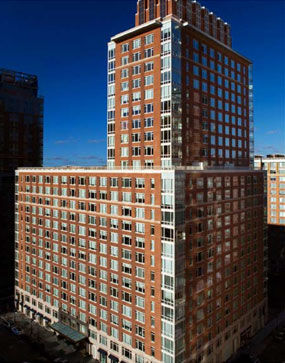 450 West 42nd Street, NYC and Tribeca Green, NYC
Our Job:
Still one of our post popular jobs, this 60 story building contains the largest amount of BULLDOG Heat Pumps on record. There are 1,700 BULLDOG Heat Pumps installed at 450 West 42nd St. It was also featured in Real Estate Weekly!
"Heat pumps are efficient on the air-conditioning side, but use a portion of electricity for the heating side," said Matthews. "By using a hybrid, it combines the best of both worlds. Tenants won't use electricity." The BULLDOG Hybrid Pump proved successful at an earlier Related project: the 274-unit Tribeca Green on North End Avenue, which was built in 2004. Several years after sales began at the condominium tower, Related pledged to earn LEED ratings for all of its projects. "We do stuff that makes sense and is justifiable. We don't want to do anything just for green flash." – Charlotte Matthews, Vice President of Sustainability at Related Companies, NYC
Tribeca Green is a LEED Gold certified building and is reminiscent of the architecture in the adjacent neighborhood. Our BULLDOG Heat Pumps are part of the eco-friendly living offered to their residents.
Luther Village on the Park, Waterloo, ON
Our Job:
Luther Village on the Park is a single site retirement community with more than 450 residents benefiting from the 'age in place' concept and has been in operation since 1997. They emphasize health, wellness, safety, and choice for older adults while they enjoy a new standard of retirement living. This includes the quality of the living environment for their residents.
In 2003, the Sunshine Center – an Assisted Living community, was built furnishing 148 suites. They incorporated Bulldog Vertical Stack Heat Pumps into the suites as well as Varipak Make Up Air Units for common areas. A few of the larger suites have horizontal units mounted in utility closets.
David Neugebauer is the Facility Manager with Luther Village and reports that they are very happy with the performance of the Bulldog units. He isn't certain, but as of January 2017, there may have been one compressor replacement since 2003. After 7 – 8 years of operation, a few units might develop minor maintenance issues. This isn't a problem since they have multiple spare chassis which they simply switch out and repair the units out of the suite with little to no disturbance to the occupant's comfort.